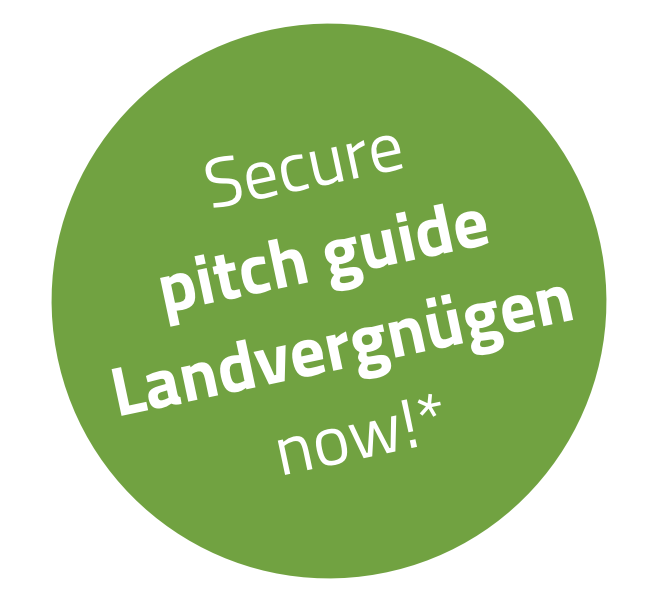 Making it easy to rent a motorhome...
Find a motorhome now for your dream holiday in 2023
5% long-distance driver discount
starting from holiday durations of 21 nights
More than 2,350
pristine motorhomes and caravans
3% discount
for members of an automobile association
Rent your motorhome – easy, fast and trouble‐free
The official motorhome rental service of Europe's leading manufacturer, Knaus Tabbert
Escape the daily routine and get ready for your holidays: If you rent a motorhome, you will be able to experience Europe in an entirely new way. Far away from mass tourism, close to nature, relaxation, recuperation and real adventures. As a camper you enjoy freedom and independence, an attitude towards life that brings more and more people closer to this fascinating form of holiday.

RENT AND TRAVEL, a manufacturer's brand of the Knaus Tabbert AG, rents motorhomes for novices, camping fans, couples, families and adventure‐seekers – or simply for anyone who wants to give camping a try. We value personal consultation, uncomplicated bookings and affordable terms and conditions. Come see for yourself – and launch your camping holiday with a motorhome rental.
7 good reasons for RENT AND TRAVEL:
The official rental portal of Europe's leading manufacturer, Knaus Tabbert
Rentals from more than 180 professional & experience rental stations in Germany, Sweden and Italy
More than 2,350 pristine motorhomes of the KNAUS and WEINSBERG brands
Individual vehicle consulting provided by experts
Booking with no fees as well as additional driver at no extra cost
Manufacturer's mobility guarantee and Camper Assistance (24/7 breakdown service)
Top offers with best-price guarantee
Discover why camping holidays are so well-liked
Freedom and independence: Travelling with a motorhome
For years now, motorhome holidays have been gaining in popularity. Experiencing the freedom and independence of a camping holiday in German and Europe creates some of life's most special moments. We want to break out of the daily routine and the stress of the big city and head towards the peacefulness of the outdoors. We are not interested in an all‐inclusive holiday, but rather real experiences, relaxing in peace, letting the soul unwind – and, while doing so, always having our own home along for the ride. It's no wonder that camping is very trendy!

Wanderlust? Then rent your motorhome at RENT AND TRAVEL and begin travelling now. Whether you are new to camping, are an experienced renter or even someone interesting in buying a motorhome; whether you enjoy a spontaneous weekend trip or multi‐week round trip: with our rental motorhomes, we would like to make your camping holiday as easy as possible. Simply book a motorhome or camper van, pick it up, and you're off! There is no time like the present – there is so much to discover!
This is how excited our motorhomes renters are
No two holidays in a motorhome or camper van are the same. Whether family holiday or individual trip: each day is something very special. There is one thing that all of our customers who rent a motorhome share: the joy of camping!
"My children love the outdoors and animals, but all the typical holiday hotels are simply not for us. Thanks to our motorhome, we can keep to ourselves even while on holiday – and can discover the world at our own pace!"
"We love travelling, but having to always plan flights and accommodations is annoying. At RENT AND TRAVEL, we simply rent a camper, pick out a destination, and leave. Our trip was the most relaxing time‐off ever!"
"And do you know what the best thing was: off to the travel agent and then head for the beach. The booking was child's play, and for that we would like to thank the entire RENT AND TRAVEL team! Now we are already thinking about where we can go next…"
Our categories
From a compact 2-person camper to a family-sized motorhome
This is how easy RENT AND TRAVEL works
Renting a motorhome with RENT AND TRAVEL is super easy. You only have to know when you would like to start your journey and what vehicle you want to take. We will accompany you along the entire trip, from your original request through to the pick‐up of your rented motorhome.
Step 1
Let our camping experts advise you
Prior to sending your query, you can find comprehensive information on our website regarding the correct motorhome and our rental offers. You can also use our telephone advice to answer all your questions.
Step 2
Create an online query and let us find the best offer for you.
In order to process your query, we only need a little info. Apart from your starting point and the date of your holiday, we also need the total number of persons and the type of holiday. We will subsequently send you a selection of suitable rental motorhomes.
Step 3
Decide on a vehicle and make a binding reservation
Once you have selected a model, we will make the reservation for the selected dates and at the desired location. All further communication will be handled by our local rental station.
Step 4
Sign your rental agreement at your RENT AND TRAVEL station
On the agreed date, we will prepare all documents for rental in your desired RENT AND TRAVEL rental station. The rental agreement becomes binding upon your signature. Once we've completed all of the paperwork, your trip can begin.
Step 5
Now you can get into your motorhome and start enjoying your camping holiday
Your motorhome will be waiting for you at the rental station on your booked day. We will provide you with a short briefing and will take time to answer your questions. Once everything has been clarified, we will send you on your way into your well-deserved camping holiday.
Step 6
After you've returned, please clean your motorhome before returning it
Even the most beautiful camping holiday ends at some point. You can return the cleaned motorhome with a full tank of petrol during the standard business hours or you can schedule an appointment.
Renting a motorhome: The most frequently asked questions about rental motorhomes
RENT AND TRAVEL makes motorhome rental child's play. The most frequently asked questions about rental, rental contracts and the procedure concerning your camping holiday are answered here.
How comprehensive is the equipment?
Who can drive? Is there a minimum age requirement? What driver's licence is required?
What costs are incurred? Is there a deposit required upon rental?
What happens during vehicle transfer or return? In what condition must the vehicle be returned?
What should I do in case of an accident? To what extent am I and the camper insured?
Camping holiday at any time of year.
Whether in Spring, Summer, Autumn or Winter
Camping is no longer just interesting during the summer months. Even in Autumn or Winter, you can discover unforgettable holiday destinations with a rented motorhome. The advantage: You decide where you want to go with your motorhome or camper van. So if you want to escape the dreary November chill in Germany by heading off to the mild Mediterranean coast, all you need is a motorhome and off you go! Although in Germany it is cold in January and February, in Spain springtime is starting.

Of course, it can also go the other way around: If the heat in central Europe is no longer bearable in July and August, a camping holiday in Scandinavia with its mild summertime temperatures and its indescribable beauty can be a welcome change.

However, a camping holiday in a motorhome also makes sense during the low season. When the holiday season comes to an end in late summer, you can experience the most beautiful holiday destinations in your motorhome in a relaxed manner and without mass tourism.

Whenever you rent a motorhome in order to take a trip: Throughout the year, camping offers true potential for a dream holiday.
Our holiday tips for renting motorhomes
With RENT AND TRAVEL, it is easier than ever to rent a motorhome and test camping holidays for yourself. For all novices and newcomers, our camping tips and favourite destinations are perfect!
Camping holidays in Scandinavia
Rent your motorhome in Germany and travel to Sweden, Norway or Finland. The legendary beauty of Scandinavia can best be experienced in a motorhome or camper van. Crystal‐clear lakes, spectacular fjords and eternal glaciers are awaiting for you to discover them.
With the motorhome through the Alps
The Alps are located on our doorstep – and therefore are particularly inviting for you to discover them with a rented motorhome. During the summer, the Alps are a Mecca for hiking fans and mountain bikers who enjoy taking a motorhome or camper van from mountain to mountain. During the winter, skiers and snowboarders enjoy having a comfortable "chalet", which they can take with them from one ski resort to the next.
Road trip through Europe in the camper van
When taking a roundtrip, the journey is the destination! Discovering Europe in a relaxed way, without a destination and always travelling as the wind blows. In a compact camper van, you will have everything you will need for your independent adventure trip. Rent your motorhome in Germany and begin your tour. From Bavaria to the Algarve coast in Portugal – from Naples in southern Italy up to the Scottish Highlands.
The best time to travel? Whenever you'd like! We will gladly advise you.
The RENT AND TRAVEL service team
Do you have questions about our vehicles, offers or about camping in general? We are here to help you!
E-Mail
reservierung@rentandtravel.de
Service-Hotline
Monday, Tuesday and Thursday from 09:00 a. m. – 5:00 p. m.
Wednesday and Friday from 09:00 a. m. to 12:00 p. m.

08583-21266