Rent the KNAUS BOXLIFE 630 ME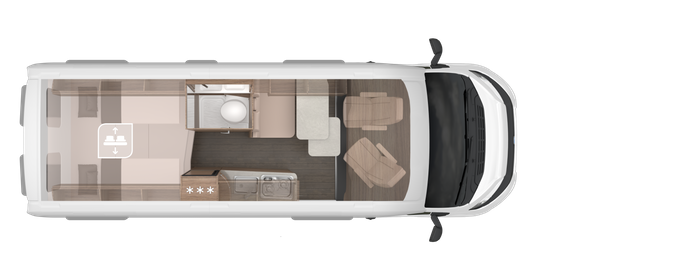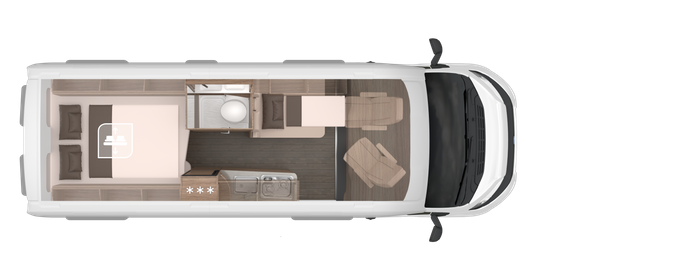 The world's top transporter for outdoor holidays
Whether you are going climbing, paragliding, canoeing or mountain biking, the stylish BOXLIFE is a spacious van, a practical base camp and a comfortable hotel room rolled into one. But don't worry: simply relaxing in the sun beneath the canopy is also allowed.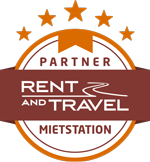 Included in the price
From 16 days rental period the number of kilometers is unlimited
Sun awning / sun sail
A propane gas filling
Radio / CD
Chemicals for toilet
CEE power supply cable
Service fee of 140 €
Partial coverage insurance
Fully comprehensive insurance
The basic equipment of your vehicle
Chassis
EURO 6 incl. particulate filter
ABS
Electronic Stability Program, hill holder
Driver's side airbag
Power windows and electric central locking system
Original FIAT captain chair seat with armrests
Power steering with electronic engine immobilizer
Lashing eyes in floor assembly (rear stowage compartment)
Chassis
Windows with blinds, insulated, tiltable
Installation adapter frames for roof top
Roof hoods: 2 skylights, clear (400 x 400 mm)
Insect protection sliding door
Sliding door with manual closing assistance
Insulation
Insulation free of thermal bridge
Closed-cell polyethylene foam on side panels and ceiling
Base plate in sandwich design made from 12 mm EPS, poplar plywood (8 mm) and PVC lining
Textile sidewall panelling
Furniture construction
Full carcase construction for more stability/solidity
Furniture surfaces with wood-optic and ABS coating
Petrol-coloured stardust surfaces in CPL (laminate)
Bar profile with round edges
Furniture hinges with spring reinforcement
Drawers, hatches and doors installed flush in furniture carcase
3 kitchen drawers with full extension and ball bearing roller guide
4 kitchen drawers with "two-way extension"
On-board technology
90-litre compressor refrigerator
Two-flame burner hob with glass cover and separate sink with chopping board cover
Gas bottle holder for 1x 2,7 kg bottle
AGM on-board battery (95 Ah)
On-board control with analogue display for electricity/water/wastewater/battery
12-Volt sockets + 230-Volt sockets: 3 each
LED surround lighting (exception: entrance light + luggage compartment)
Water hoses transferred to circulating air hoses > frost resistance
Shower cabin incl. 2 drainages with fixed bathroom (4 with optional open bath)
Swivelling cassette toilet
WC waste disposal tunnel with solid wood panelling
Comfort
Living space and driver's compartment seats in original Fiat design
Upholstery selection: Turin or Fresh Mint (standard); incl. seat covers for driver's compartment seats
Swivelling driver and front passenger seat
Dinette seat bench with lockable side pull-out, even while driving
Dinette table with double tabletop (can be extended)
Snap sunshade system
Space optimisation in bathroom, kitchen, living and sleeping area
Side permanent bathroom or optional open bath with separate shower cabin
Two-zone cold foam mattress with breathable and durable mattress ticking
Equipment and supply installation with easy access
Controls in a central arrangement
Kitchen block with fold-out counter-top extension and integrated side compartment
Integrated illuminated spice rack
Safety
Weight-optimised seatbelt system
Our rental terms and conditions
Authorised driver/minimum age/driver's license
The minimum age for renters and drivers is 21 years old. The renter or authorised driver must be in possession of a valid driver's license for at least one year. For vehicles over 3.5 tonnes, the minimum age is 25 with a valid driver's license for at least three years. The vehicle may only be driven by the renter and any additional drivers registered upon renting of the vehicle. The driver and any additional drivers must present a valid driver's license when renting the vehicle.
Prices
The rental price consists of the basic rental price and a service fee applicable for each rental. The prices include VAT as well as liability and fully comprehensive insurance (with €1.500,- excess per claim). In particular, fuel costs, tolls, parking and camping fees, as well as any fees associated with traffic tickets or fines will be charged to the renting party. The calculation of the rental price is charged per night. Unfortunately, one-way rentals or the return to another station are not possible.
Service flat rate
The service flat rate of €140,- is charged once per rental. This lump sum includes the costs for handing over the vehicle and the detailed instruction of the renting party regarding the handling of the motorhome as well as its return upon conclusion of the rental. Furthermore, the fee covers the costs for a propane gas filling (one bottle), the basic equipment with WC chemicals, the letter of protection, and the cleaning of the motorhome's exterior.
Deposit
The renting party pays to the rental agency a deposit of €1.500,-. The down payment must be made upon transfer of the vehicle. Payment can be made in cash or using a debit or credit card (may vary depending on the rental station).
Mileage
Beginning with a rental period of 15 nights, the mileage is unlimited. For all rental periods of 15 nights or less, 300 km are included in the price per night; every additional kilometre is charged at a rate of €0.38/km.
Minimum rental period
The minimum rental period is 6 nights; during the summer holidays in the respective federal state in Germany, the minimum rental period can be 13 nights. Shorter rental periods are available within the scope of our last-minute offers as well as Flexi-Deals. More information can be found at: www.rentandtravel.de/angebot
Vehicle transfer and return
The renting party is responsible for cleaning, refuelling and returning the vehicle in a condition stipulated in the contract. The vehicle status is documented with a handover protocol upon return. This protocol is signed by both the renting party and the rental agency. The transfer and return usually takes place from Monday through Friday: during the rental agency's normal business hours. The applicable times are listed in the rental contract. On Saturdays, transfers and returns are only accepted upon prior agreement and upon payment of an additional €29 fee. We are unable to handle any vehicle transfers or returns on Sundays or public holidays. The vehicles are transferred with a full tank of gas and must be refuelled upon return. Otherwise, costs will be incurred for the refuelling of the vehicle.
Cleaning
The vehicle is transferred in a clean state. The renting party must clean the vehicle prior to returning it. If the vehicle is not properly cleaned, then the following costs are incurred:
Interior cleaning: €150
Cleaning of the bathroom: €160
Cancellation fees
If the renting party would like to cancel a booking, then a cancellation fee of €200 applies.
In other respects, the Renter may cancel as follows:
Cancellation up to 61 days prior to rental period begin requires a payment of 20% of the rental price (cancellation fee) to the rental agency.
Cancellation from 60 to 30 days prior to rental period begin requires a payment of 40% of the rental price (cancellation fee) to the rental agency.
Cancellation from 29 to 15 days prior to rental period begin requires a payment of 80% of the rental price (cancellation fee) to the rental agency.
Cancellation less than 15 days prior to rental period begin requires a payment of 90% of the rental price (cancellation fee) to the rental agency.
If the vehicle is returned prior to the conclusion of the agreed rental period, then the full contractually agreed rental price is due. The renter can protect themselves from incurring the costs due in the event of cancellation by means of purchasing a travel cancellation insurance policy at the renter's own terms and conditions. The contractual right to cancel shall not apply if the Renter has booked a special offer, in particular so-called taster tours.
Miscellaneous
All vehicles are non-smoking vehicles. Pets are only allowed in the vehicles if this has been permitted by the rental station. Extra fees apply.